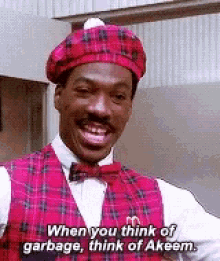 2) Josh Uche 6'1 241 OLB Michigan
- It pains me when I like a player from scUM, but this kid really brings it. Dig him. Ferocious around the corner yet is adept in coverage. With Tombert's new affinity for Michigan kids it will not surprise me if Uche is Coming to Pittsburgh...especially if Bud Dupree does not return.
3C) Prince Tega Wanogho 6'5 307 OT Auburn-
"The royal penis is clean, your highness " Nigeria to Pittsburgh? It could happen, It could happen. 'Ol Tega here is a bonafide Nigerian Prince. Cool story. Soccer background still brand new to football. Lotta talent to work with, but could slide a little due to knee scope that cost him Senior Bowl week and now the combine. I suppose a benefit of Bud not being re-signed would be freeing up money to spend on other players such as BJ Finney making a young, athletic left tackle a viable selection.
4T) Leki Fotu 6'5 336 DT Utah
- This Ute hails from the Isle of Tonga. Don't think he's royalty however. Since I've mocked him like a dozen times now there is literally no way hes Coming to Pittsburgh.
4) Devin Duvernay- 5'10 215-WR Texas
- Led the nation in catches??? Hell, I didn't know that. Fourth in the nation in yards? THAT makes more sense given his holy shit speed. Former top 5 recruit in the nation originally slated to play for Art Briles before that shit hit the fan. "Runs like he hates humanity as he bursts through tacklers." Yes please.
6) Geno Stone 5'10 210 S Iowa
- Geno here may not be a prince, but he is from a castle...New Castle. Yep, a local kid just a "Stone's" throw from Pittsburgh (See what I did there?). Cerebral safety with just a dash of heat seeking missile. Not quite Erie's Bob Sanders, but similar build and same school.
7) Ahmad Wagner 6'5 235 TE Kentucky
- Three year basketball player at Iowa before pursuing a football career at Kentucky. Played a hybrid WR/TE position for the 'Cats but that hoops background screams TE to me.
Thanks as always for reading. Please comment on the players you like and those you don't. I'm still pretty sure Bud will be back. Damn Rosenhaus. Stay away from my Steelers you dirtbag.